From the article about this event on Chinese online sources: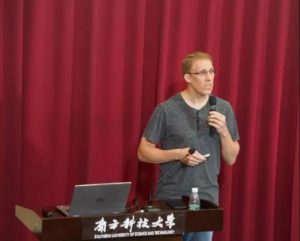 Mr. Derek Cowburn is the founder and CEO of Lumen Cache. As an entrepreneur in the environmental industry, he is passionate about the environment and has made a bold leap in system integration and energy efficiency. Derek Cowburn said: "Part of the reason that prompted me to do this is that I feel strongly that the products we have can help reduce the energy needs of buildings and meet the 20% savings demand of China's 2020."
When asked why he wants to come to China, Derek Cowburn replied: "Foreigners have many opportunities to bring their experience and knowledge here. I think this is ideal for people like me, for people with rich experience."
At the lecture, Derek Cowburn also shared his entrepreneurial experience with the participants: "Never give up no matter what". Because from childhood, Derek Cowburn has been a curious, pragmatic and persistent person. On climate issues, Derek Cowburn believes that each of us has an obligation to protect the environment and to adopt a win-win strategy to solve environmental problems.
About IYSECC10.0
The International Youth Summit on Energy and Climate Change (IYSECC) was originally launched by a group of Chinese youth who are concerned about global sustainable development, energy development, and climate change, and discussing how the young generation could better react to opportunities and challenges brought by green transformation. Since 2009, nine years of IYSECC have attracted over 2,200  participants worldwide and become an annual green gathering.
The theme of this year's summit is "Eco-City", "Eco-Life" and "Eco-Power". It will fully explore the way of green development from the perspectives of cities, lifestyles and the youth under the background of global climate change.
"Eco-City" focuses on hot issues in the economic, social and ecologically sustainable urban development, which helps the participants learn more about the future direction of urban development.
"Eco-Life" focuses on the sustainable life and explores new lifestyles based on the concept of zero waste, including the changes in the attitude of consumption. This section aims to help participants change their lifestyles and habits in daily life as well as encourage them to be more responsible for their behaviors in the process of production and consumption, and contribute to the reduction of low-carbon emissions.
"Eco-Power" refers to the green-collar youth. It aims to strengthen the education in climate change and improve participants' abilities by inviting talents from various fields. It is also important in cultivating the green-collar talents for the development of eco-city and eco-lifestyle in the future.